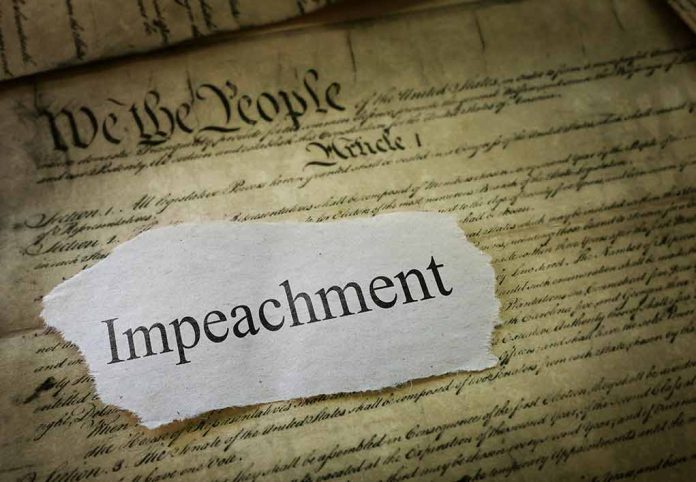 (RepublicanNews.org) – Rep. James Comer told Newsmax on September 7th that a House vote on an impeachment inquiry into the President could come as soon as the "middle of September." The legislator told Rob Schmitt that after a seemingly never-ending process of gathering evidence in the form of "low-hanging fruit," his Committee now has nearly everything they need "to win in court."
Comer, who chairs the Oversight and Accountability Committee, said that a decision on the vote ultimately lies in the hands of Speaker McCarthy but that a delay beyond mid-September is unlikely based on conversations Comer says have happened between the two and fellow Rep. Jim Jordan.
While the chair indicated that his Committee has "gotten more" alleged evidence against President Biden than most had "dreamed possible," he said that an official impeachment inquiry would open the door for them to have access to even more.
Comer implied that a vote in favor was likely to pressure the National Archives and IRS to release incriminating documents in their possession. Many on the right have accused the agencies of being less than forthcoming concerning releasing Biden-family tax, banking, and email records.
Although Comer did acknowledge initial hesitation from his House GOP colleagues in moving forward with a vote, the Rep. told Schmitt that most of their fears were assuaged upon learning that then-Vice President Biden allegedly traded emails with his son about business dealings while using several pseudonyms.
Outside the House, several career Republican Senators have yet to board the impeachment train and several have voiced disdain about the prospect of an inquiry. Thom Tillis, Shelley Capito, Mitt Romney, and other members have all raised concerns about the potentiality.
Some have cited a lack of evidence against Biden, and others have suggested that the leftover fatigue from impeachment attempts against President Trump has made them unlikely to support the pursuit.
Copyright 2023, RepublicanNews.org