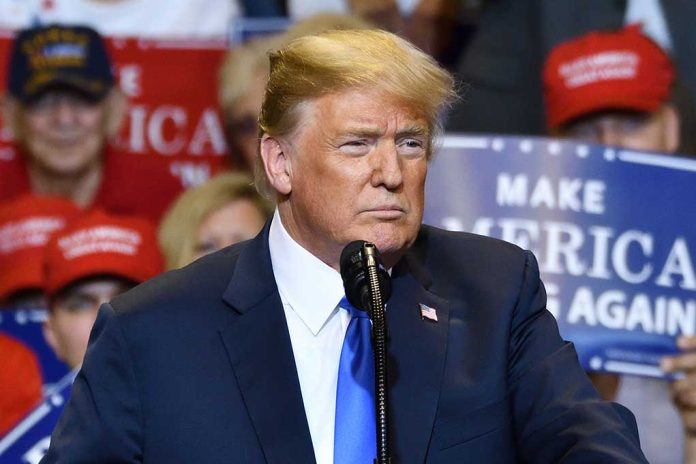 (RepublicanNews.org) – In a move observers believe signals the intention to charge former President Donald Trump, the Manhattan District Attorney's office asked to meet with law enforcement, according to an unnamed source in the court system.
This source told news outlets the DA's office made the request on March 16th and indicated that the DA is likely to charge Trump next week.
Manhattan DA Alvin Bragg has been trying to prosecute the former President for years on allegations that Trump paid "hush money" to adult film star Stormy Daniels. The payment of $130,000 to Daniels was funneled through Trump's former attorney Michael Cohen.
The payment is widely believed to have been made to buy Daniels' silence about an alleged extramarital affair between her and Trump in the 2000s.
Hush money payments are not illegal in and of themselves. DA Bragg is making the argument that the payments were structured in such a way that they amount to political campaign finance fraud.
Trump's camp calls the DA's actions a "witch hunt." Steven Cheung, a Trump spokesman, claimed Bragg was allied with President Biden and "radical Democrats." Cheung said Trump is "totally innocent" and "did nothing wrong." He said the attempts to take down Trump over false allegations of colluding with Russia and the two impeachments showed that Democrats were singularly focused on taking Trump down regardless of the facts.
Trump faces numerous additional investigations. The Department of Justice (DOJ) is investigating his handling of papers marked "classified" that were found at his Mar-a-Lago residence in Florida in 2022.
Despite cooperating with that investigation, the FBI pulled the unprecedented stunt of staging a full raid on the former President's house in September 2022.
Multiple documents marked "classified" have also been found at President Joe Biden's home and the home of former Vice President Mike Pence. The DOJ's treatment of Biden and Pence has been much gentler and more cooperative.
Copyright 2023, RepublicanNews.org