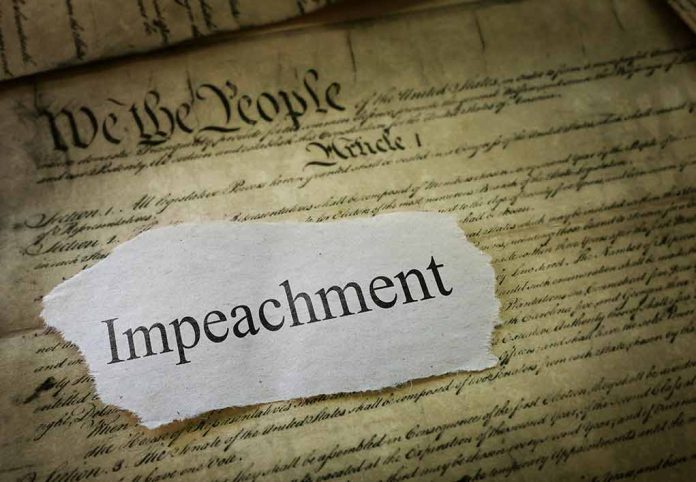 (RepublicanNews.org) – Florida Rep. Greg Steube followed through on his promise to include "financial involvement in prostitution" among the articles of impeachment the legislator filed against President Joe Biden on August 11th.
The Republican lawmaker's filing also included the additional charges of extortion, bribery, fraud, obstruction of justice, and financial involvement in drugs.
The day before the articles were filed, Steube was asked in an interview if he had "proof" in the form of "receipts." The lawmaker assured the reporter that he was in possession of "all the facts and evidence" and that his upcoming press release would provide more information.
Once the release was posted to Steube's house.gov account, it accused the President of having "a long history" of "intermingled finances" with his son, Hunter Biden. It went on to say that thousands of dollars of "comingled" Biden-family money went to the purchase of drugs and prostitutes over a nine-year period ending in 2019.
Steube's impeachment articles lay out several accusations against the President that suggest his involvement in his son's activities was much more than indirect. He maintains that it would have been impossible for President Biden not to "have been aware" that his son was using his finances to fund the purchase of escorts and narcotics.
The congressman accuses the father-son duo of using shared bank accounts and of having the same money manager. He also cites evidence alleging the President sent money to and received money from his son.
Previous mainstream stories have claimed that the President "inadvertently financed" Hunter Biden's purchases of Russian escorts. Congressman Steube insists that ignorance on the part of the President would've been impossible.
He cites a specific instance when Hunter Biden received several calls "from D.C." after wiring an escort $25,000 from an account that was linked to his father. Steube appears to infer that the calls "from D.C." were from President Biden himself.
Copyright 2023, RepublicanNews.org