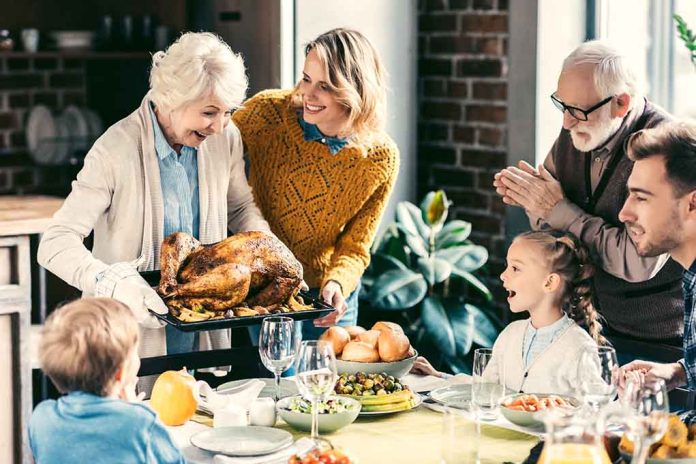 How To Host a Dirt-Cheap Thanksgiving Without Anyone Knowing
(Republicannews.org) – Most people love spending the holidays with family and friends, especially during Thanksgiving, but hosting a huge meal can come with a financial burden. For many struggling Americans, Thanksgiving puts a pinch in the wallet during a time of the year that should allow us to feel our most generous. Fortunately, as the Thanksgiving host, you can embrace the magic of money-saving tips this holiday season to ensure the holiday puts minimal strain on you and your family.
Here are some entertaining ways to make it happen.
Share the Load With a Pot Luck
Putting out the spread is typically the most expensive part of hosting Thanksgiving dinner, especially if you're inviting many relatives over to partake in the pie. But, like a pie, this is a responsibility best shared. Every family member will feel like they have a part in preparing a meal if they all contribute to bringing something. If you can, offer to cover the turkey, but ask them to bring everything from soda to sides to make it a truly shared experience.
This is also a great teaching experience for younger family members, who see that things are less difficult when everyone helps out.
Be a Dollar Store Hero
Napkins, paper towels, tin foil trays, and more — all those paper products and Thanksgiving holiday decorations can really add up. Hit up your local dollar stores, the Target $5 section, and other discount stores like Five Below to do all your decorating for less.
Share One Holiday, Many Meats
Consider offering multiple main dish selections to reduce the cost of providing a huge turkey for everyone. In fact, many Americans prefer ham or even beef or veggie burgers during the holidays, citing the sides as their favorite parts of the meal.
Use Your Discount Wholesale Membership
If you or your family member have a membership to a store like Costco or Sam's Club, Thanksgiving is a great time to use it. You'll save many dollars by buying in bulk at these stores, so long as you have an existing or new membership. You can buy frozen or canned vegetables, paper towels, and boxed goods like stuffing at these stores. Plus, they also have regular discount "extras" here, like free recipe handouts and holiday decor.
Use SNAP Benefits
Do you already have Supplemental Nutrition Assistance Program (SNAP) benefits, also known as food stamps? If so, it's an ideal time to use them. Gravy, canned vegetables, fresh vegetables, turkey, and other Thanksgiving staples are usually covered by SNAP benefits.
Look For Community Outreach
During the holidays, members of the community are more likely to be aware of families going through rough financial times — and they want to help. Often offered through local charities and religious institutions, your community should be able to help you find a turkey for the holidays.
Participate in Buy Nothing Groups
Your local Buy Nothing group (usually found on Facebook) is free to join. Around the holidays, people always give away holiday-related foods, decorations, and more — for free! The idea is that everyone can give and everyone can receive… so if you take a turkey for Thanksgiving, simply donate some gently used clothes in the future. Buy Nothing groups are full of people who get extra turkeys from their employers for Thanksgiving, and they are usually happy to have a family in need to take it off their hands.
This Thanksgiving, it's easy to be grateful for the many opportunities you can find to make the holiday more affordable. Friends, family, and community members are happy to come together to help you host without busting your bank account.
Copyright 2022, RepublicanNews.org